Start or resume your Multipliers Mini Learning Journey: Enroll here!
Step 1: Diminishers • Step 2: Native Genius • Step 3: Play Fewer Chips • Step 4: Create your certificate and claim your badge!
The Multipliers mini learning journey is part of the Advantage Performance Culture Quest: Jewels that help build great cultures.
Introduction: Why Create a Culture of Multipliers?
Winning in today's market requires having everybody's head in the game. We are excited to see our customers embrace Multipliers as more than just another leadership catalog course and, rather, as a catalyst to transform their approach to leadership. And early results are fantastic. ... We are so thrilled to be a partner with Liz Wiseman and to help her in her mission to "rid the world of bad bosses." - Jim Perry
Here's the replay of our webinar held May 3, 2018:
As promised, here is Jim Perry's white paper with powerful strategies to help you bring Multipliers to life throughout your organization. Get started with these 3 quick and easy interactive learning modules:
Step 1: The Accidental Diminisher: Identify Your Tendencies
In her groundbreaking bestseller, Multipliers: How the Best Leaders Make Everyone Smarter, Liz Wiseman identified behaviors that have a diminishing impact on the people they lead. "The vast majority of diminishing happening inside our workplaces is done by the Accidental Diminisher -- managers with the best of intentions, good people who think they are doing a good job leading," she says.
"We all have Accidental Diminisher moments," Wiseman says. "The secret to the Multiplier effect is knowing what your vulnerabilities are, spotting them in action, and turning these situations into Multiplier moments."
We've developed a quiz to help you identify any Accidental Diminisher tendencies you may be prone to, and we have helpful workarounds that can help you counteract those behaviors. Ready, go!
Step 2: Name the Genius: Define Your Superpower
If you want to work at your highest point of contribution, you need to let people know your value. Here's a tool to help you to identify your native genius so you can describe to others how they can get the most from you. Identify it, name it, and put it to use!
Step 3: Know When to Hold 'Em: Play Fewer Chips
Less is more, especially when you want to be a catalyst for innovation. Here's how to make room for others to contribute.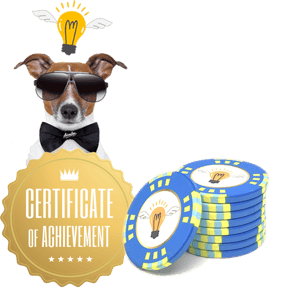 Bonus! Get your chips, a certificate and a digital badge
* Finish all 3 modules to receive your 3-pack of Multipliers poker chips, a personalized Certificate of Achievement suitable for framing, and a digital badge you can add to your LinkedIn profile or share on social media.
Let others know that you are a Multiplier, and help them become one, too!
Share this link with your colleagues: https://apg1.us/enroll