---
These events have concluded. The replay + takeaway from our Dec. 5 session are now available for immediate access.
---
Harvard Business School Professor Dr. Linda Hill and colleagues released groundbreaking research on how successful companies are able to innovate again and again with the publication of their 2014 book Collective Genius, which was recognized with a rare Thinkers50 innovation award.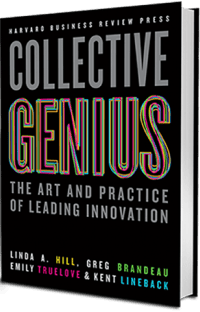 Now, those discoveries are driving an exciting, interactive simulation developed by learning design expert and Advantage Senior Leader Richard Hodge along with our thought leader partners at Paradox Strategies, a company Dr. Hill co-founded that specializes in leadership and innovation. The simulation is part of a learning journey that includes practical implementation tools that can help make innovation a reality in any organization. We'll share one of the tools with you as a takeaway.
The multifaceted journey includes a combination of self-reflection on research-based leadership behaviors, group-based self-discovery learning, team-based competitive decision-making, and a set of step-by-step, practical and interactive tools. Its action steps yield near-term results for any leader in an organization looking to be more innovative. It's not just for "innovation gurus."
In this flyover, we'll also explore how Multiplier leaders become even more effective when they embrace and take action on the findings from Dr. Linda Hill's work, which are highlighted in the Collective Genius simulation.
About the facilitator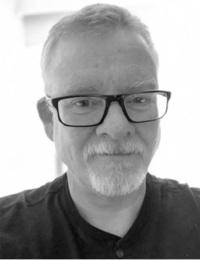 Jim Perry brings over 25 years of creative learning design, creating discovery-based experiences to support leadership, change, sales, onboarding, and personal growth. As former VP of learning design at BTS, Jim led the development of the official Multipliers simulation with Author Liz Wiseman. He is now collaborating with Paradox Strategies on the Collective Genius simulation.
Praise from participants
"This training is relevant to anyone in an organization focused on innovation, not just the 'innovation experts.' "
"I like the fact that it's based on a real-life situation, with the opportunity to analyze our decisions and apply in our own way to our organization."
Cybersecurity Organization
"The Collective Genius Toolkit was an important part of a recent innovation program. The participants are thrilled to have the tools because they translate powerful concepts into specific actions that they can deploy individually and with their teams to drive innovation. "
Harvard Business School Executive Education
Key results from Collective Genius
After completing the Collective Genius learning journey, participants will understand and experience:
An innovation mindset. Increased knowledge regarding the culture and capabilities of innovation
A shared language and approach. A common innovation framework and language, which facilitates conversation and collaboration
A world class methodology, which is also a foundation of the Harvard Business School MBA and Executive Education programs.
Confidence. Increased self-assurance around discussing and implementing actions to drive innovation
Action steps. Specific strategies, behaviors and tools participants can immediately implement to drive greater innovation in their day-to-day work.
Strategic competence. The ability to assess their current state and construct an action for themselves and their teams.