This webinar has concluded, but you can still register to access the replay and next steps!
Gender bias is alive and well, and not likely going away any time soon, but with better influence skills, we can begin to break through its effects.
Join us for an engaging, interactive 45-minute webinar that explores the choices we have in how we respond to implicit (and often unintentional) gender bias and ways to increase your influence power within its realities:
Facilitated by Kelly Dozois of Ocean Beach Consulting – influence expert, speaker and thought leader.
Hosted by Advantage Performance Group
This webinar

will

:
Introduce the reality of gender bias
Explore the choices we have in how we respond to it
Provide action strategies ("bias busters") for how to Influence others when faced with 2 common patterns of gender bias
Gender bias is often implicit and difficult to self-identify. So the question is not, "IF it happens, what do you do?" The question is, "WHEN it happens, how do you accept it and influence within it?"
Join Kelly Dozois to learn how men and women can raise their awareness of gender bias, recognize that we all have a choice in how we respond to it, and embrace proven communication strategies to help level the playing field.
Please note, this webinar is

not

for:
Discussing incidents of gender bias
Eliminating gender bias
Dealing with harassment or other forms of intentional, explicit gender bias
About our facilitator
Kelly Dozois specializes in designing and facilitating innovative leadership development solutions that combine experiential learning with practical skill-building and a focus on application.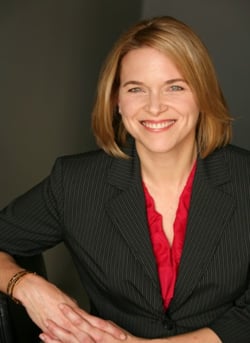 She has a passion for supporting leaders to be the best they can be in complex, challenging environments to follow through and apply new knowledge, techniques, and skills in order to "up" their effectiveness and have a positive impact on their organization.
Kelly is one of Advantage Performance Group's thought leaders on the topic of influence.
Over the past 20 years, Kelly has designed learning solutions for a wide range of clients including Apple, Nike, Salesforce, Clif Bar, Verisign, Cargill, Givaudan, Levi Strauss & Co., Honda, Genentech, Brown Brothers Harriman, One Medical, and many other great brands.
She focuses on bringing the right blend of mediums (i.e., classroom, virtual, self-paced, social, etc..) to support the most effective development experience. She brings best in class leadership development research, approaches, and tools, and works with her clients to implement these in a very pragmatic, results-oriented way. Her learning program design credits include Managing Success ™, I-Follow-thru Peer Coaching™, Leading within the Matrix™ and the Influence Inside™ portfolio.
Prior to founding Ocean Beach Consulting, Kelly worked in the Marketing and Education Center for Eastman Kodak Company, served as a Senior Consultant and Regional Director for MOHR Development (a management development consulting firm), followed by ten years as Vice President of Human Resource Development for the Gap Corporation. She holds an MS in Educational Technology and a BS in Health Science, both from San Diego State University.
Living in California provides a backdrop of mountains to climb, oceans to dive and fish in and trails to hike. When she is not working, Kelly prefers to be outside, engaging in activities that get the blood flowing and the heart pounding!